I get asked this quite a bit, why is 'Kustom' spelt with a 'K'?
It's thought that the word 'Kustom' was first coined by George Barris, the famous American custom car builder from the 1950's. George and his brother Sam worked at a restaurant owned by their family in California, and were given a run down 1925 Buick for their efforts. They restored it and got it back on the road and then began to experiment with changing its appearance. This became the first Barris Brothers custom car. Before George had graduated from high school, demand for their work was growing, and they had created a club for owners of custom vehicles, called the Kustoms Car Club.
This was the first known use of the spelling "Kustom," which would become associated with George Barris.
After a stint in the US Navy, Sam joined his brother in Los Angeles where the two worked on their own 'Kustom' designs for private buyers and themselves. Eventually Hollywood came calling and they were building cars for studio executives, the stars and their films. They become good friedns with the founder of Hot Rod and Motor Trend magazines whose publications further publicised the Barris style Kustom car.
Barris' designs were so popular in the 60's that you couldn't turn on the Tv or watch a film without seeing one of his kustom creations – the iconic 'Adam West' Batmobile, Black Beauty from Green Hornet, Drag-U-La and the Original General Lee to name a few.
The term Kustom has since been associated with anything related with modified cars from the 1930's through to the early 1960's and is often referred to as 'Kustom Kulture'.
Kustom Kulture is an neologism now used to describe artwork, music, vehicles, fashion and hairstyles of those who drove and built custom cars and bikes from the 1950's onwards (mainly in the US – although there is a big Kustom Kulture following in the UK and Europe).
Kustom Kulture spawned a mass of talented individuals including Von Dutch, Ed "Big Daddy" Roth (Rat Fink), Lyle Fisk, Dean Jeffries and the Barris Borthers along with other tattoo artists, custom car painters and film and television shows such as American Graffiti – all of which have helped define what Kustom Kulture is.
Kustom Kulture has been the inspiration behind many other subcultures since the 1950's such as the Greasers (1950's), Drag-racers, Skinheads, Mods and Rockers (1960's), Lowriders and Punk rockers (1970's), metal heads, rockabillies  and scooter boys of the 1980's and the physchobillies of the 1990's. Each group have added their own take to the term Kustom Kulture along with everything from hand painted pinstriped paint jobs, chopped and bobbed Harley's and cruisers to metal flake and flat 'Denim' paintwork.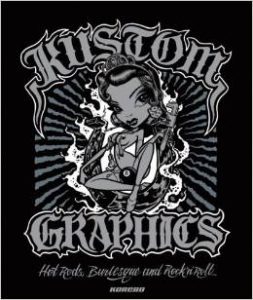 The newly coined term 'Kustom Graphics' has also been used to describe the distinct artwork associated with the subcultures when applied to posters, t-shits and logos. I can highly recommended the books Kustom Graphics: Hot Rods, Burlesque and Rock 'n' Roll and its sequal.
It took me a while to figure out what I wanted to call my airbrushing and custom paint services… then the penny dropped, I thought it was only fitting that I adopted the term 'Kustom' and added it to another term associated with the materials I work with – 'flow' to rebrand as Kustomflow (formerly Tom Hunt Designs!) as I incorporate all aspects of the Kustom Kulture into my work it just seemed right.